Porcelain Veneers in Orléans
Teeth whitening isn't the only dental treatment that can make your teeth shine brighter; dental veneers, specifically porcelain veneers in Orléans, are a great option for you to consider if you're looking to improve not only your smile but also your oral hygiene.
Veneers are thin coverings that are placed over the top of the external surface of your teeth. They're made to one, fit the dimensions of your teeth precisely and two, to mimic your teeth's natural color, which is why porcelain is typically used. Resin is also a good material, though porcelain is more resistant to stains.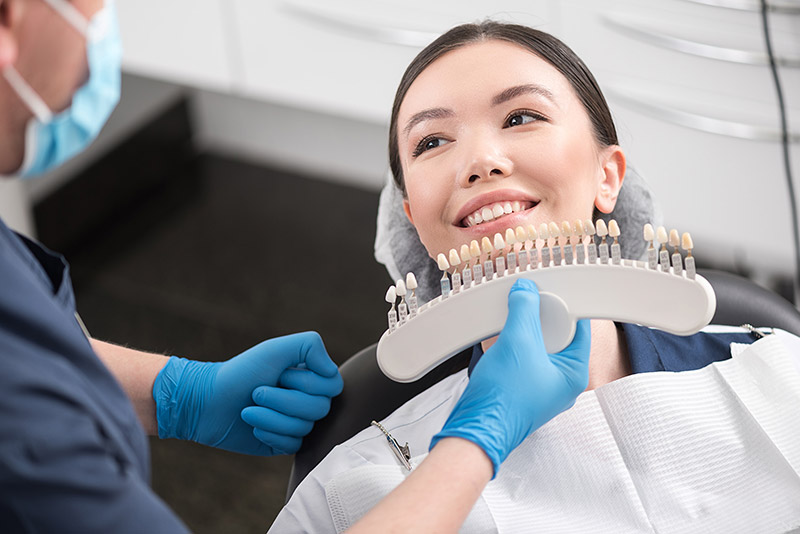 Why You Should Consider Receiving Porcelain Veneers
Our teeth are resilient things, but they are still susceptible to damage. Porcelain veneers improve the aesthetic appearance of your teeth, which includes removing discoloration, either from foods, drinks, or medications, as well as helping to repair teeth that are chipped, cracked, or unevenly spaced.
Before booking this treatment, always be sure to speak to your dentist to see if you are indeed a suitable candidate for receiving porcelain veneers near you, or if another course of action would be better.
What Does Receiving Porcelain Veneers in Orléans Entail?
First, it's good to know that you can receive porcelain veneers for one tooth, two, three, or all of them. It's up to you.
Regarding the actual procedure, receiving dental veneers near you is simple, but does take at least two appointments. During your initial visit, your dentist will examine your mouth and take x-rays, if necessary, as well as make impressions of your teeth so that the veneers that are created will fit you seamlessly.
When you return for your second visit, your veneers will be installed. Your dentist will etch your teeth or, in other words, make their surface rough, which will help them stick to the veneers better. Then, by using a special paste, the porcelain veneers will be bonded to your teeth. Finally, just like teeth whitening, a special light is used to make the paste harden.
Come in or call our dental clinic for more information about receiving porcelain veneers at our dental clinic in Orléans today! You deserve to feel good in your own skin and that includes showing off a healthy, beautiful smile. Our staff is ready to answer any questions you may have and help you achieve exactly this.